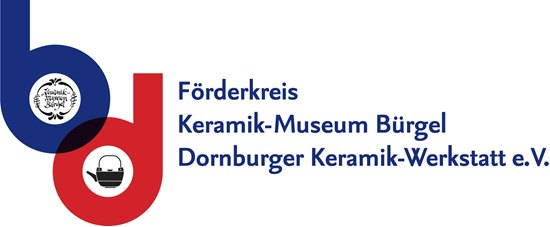 Friends and Patrons of »Keramik-Museum Bürgel and Dornburger Keramik-Werkstatt e.V.«
The »Förderkreis Keramikmuseum Bürgel e.V.« (Association of Friends and Patrons) was founded in 1994 with the goal of supporting the preservation of the Ceramics Museum Bürgel. Since 1999, our main concern was to find a new location for the museum. This goal was achieved in 2003 with the opening of the Ceramics Museum in the former schoolhouse of the town of Bürgel. Since 2011 the association has been called »Förderkreis Keramik-Museum Bürgel und Dornburger Keramik-Werkstatt e.V.«.
The establishment of the Bauhaus Workshop Museum in Dornburg as an additional museum location was our focus in the years that followed and was successfully completed in 2019.
The purpose of our association is to advance art and culture, education and science by supporting and promoting the Ceramics Museum Bürgel and the Bauhaus Workshop Museum in Dornburg.
You can find the association's bylaws here.
Become a member!
By becoming a member of the »Förderkreis Keramikmuseum Bürgel e.V.« and paying an annual membership fee of 20 € for individuals or families and 50 € for institutions, you can actively support the work and goals of our association.
As a member you receive free admission to the Ceramics Museum Bürgel and the Bauhaus Workshop Museum Dornburg as well as to special events.
You are also welcome to support us with a donation, a permanent loan or the sponsorship of a specific acquisition.
You can find the membership application form here. If desired, we can also send you the form by mail.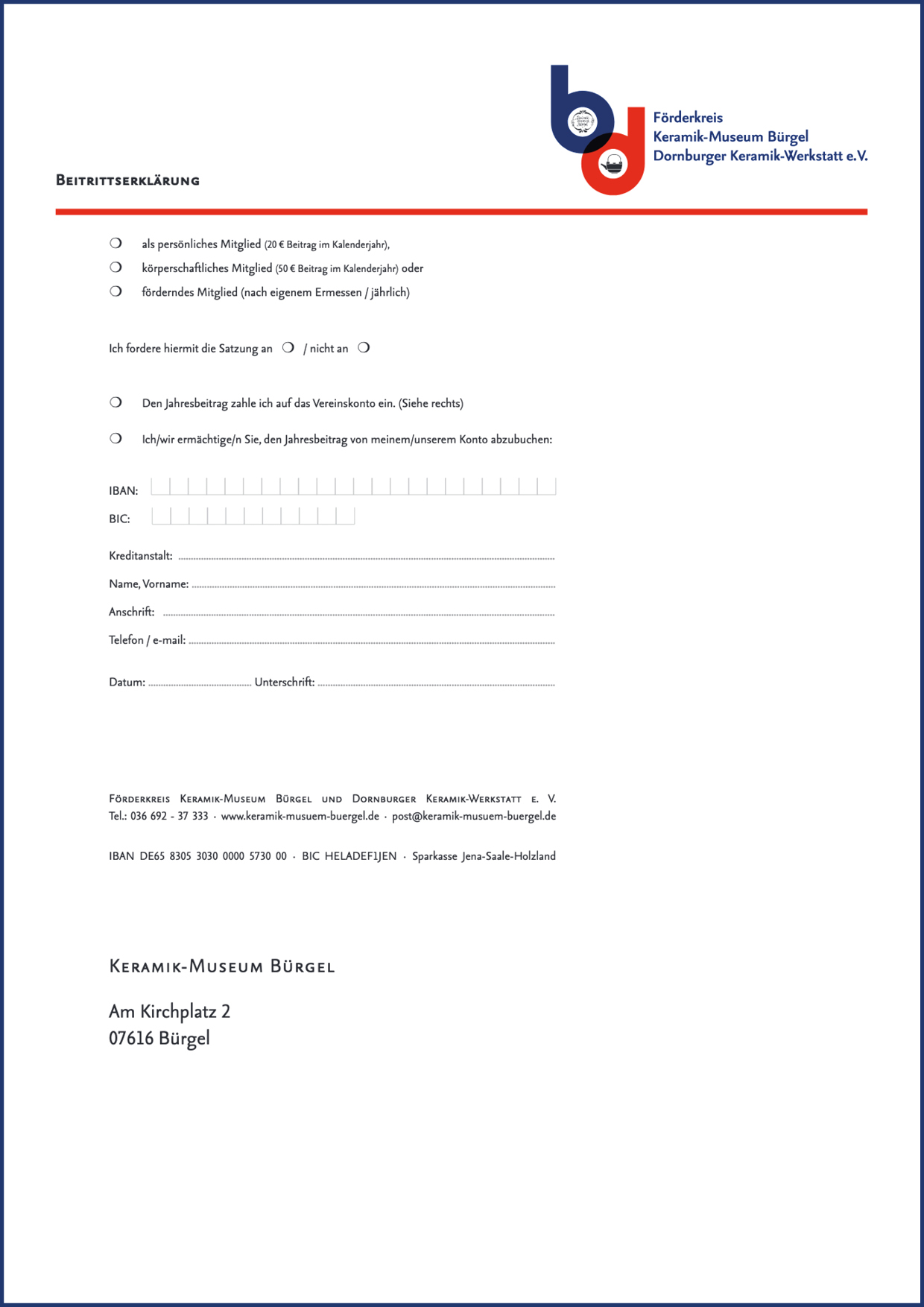 Partners
From the very beginning, the project for the conversion of the Dornburg ceramics workshop into a museum has found many friends, supporters and partners. We would like to express our gratitude for this successful cooperation and all the support big and small we received along the way.
Our accomplishments so far and our continued work on this project are supported in particular by:
Beauftragte der Bundesregierung für Kultur und Medien
https://www.bundesregierung.de/breg-de/bundesregierung/staatsministerin-fuer-kultur-und-medien
Kulturstiftung der Länder
Thüringer Staatskanzlei
Ministerium für Bildung, Jugend und Sport
Sparkassen-Kulturstiftung Hessen-Thüringen
ART regio. Kunstförderprogamm der SV Sparkassen Versicherung
Sparkasse Jena-Saale-Holzland
Ernst von Siemens Kunststiftung
Saale-Holzland-Kreis
Stadt Dornburg-Camburg
Stiftung Thüringer Schlösser und Gärten
Neustart Kultur
Kultur.Gemeinschaden
Klassik Stiftung Weimar / Bauhaus-Museum
Dornburger Impressionen e.V.